Renoir 1000 Divan Set Bed - Medium
Product Code: 8183
Availability: In Stock
---
Available Options

Renoir 1000 Divan Set Bed
Single divan set £319
Double divan set £399
King divan set £459
Double divan set (base and mattress) £50 deposit and £15.61/mth for 36 months
Click on the image to find out more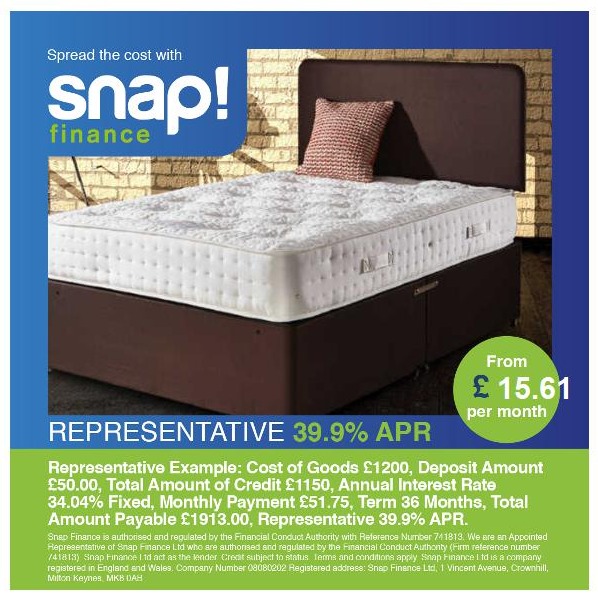 Headboard and storage are opitional extras and not included.
Renoir 1000 Pocket divan set, is made in the UK by Deluxe Beds. A quality renowned manufacturer and member of The National Bed Federation. Providing a medium supportive quality mattress with natural fillings, and superior textured damask fabric. Over a quality divan base finished to the highest standards.
Quality German made pocket springs encourage correct spinal alignment, whilst surrounded in layers of traditional fillings for superior comfort, and an excellent nights sleep.
A softer feel pocket sprung mattress, containing the same luxury fillings as its partners in the range. An excellent option for those seeking blissful slumber.
Key Features:
1000 individual support pocket springs
Soft hypoallergenic fillings
Sculptured knitted stretch cover
4 flag-stitched handles for ease of turning
Tufted for long term comfort
Turnable 2 sided mattress
24cm thick mattress
Superior textured damask fabric
Approved by the National Bed Federation
Fire Resistant to domestic fire standards.
Quality divan base in a choice of colours.Brown, beige and black.
Find out more about our range of Pocket Sprung Mattresses available at Dial-a-Mattress
Shown: Renoir with brown base and matching brown rounded headboard.
Delivery & Returns
Returns accepted as long as mattresses are still in their bags, and the mattress is undamaged/ unmarked. Likewise we accept returns of beds and furniture as long as the items are sent in their original boxes and packaging.
Returns should be sent to;
Dial a mattress
204 Whitchurch Rd
Shrewsbury
Shropshire
SY1 4EL
Please wrap and secure the items to prevent damage in transit. Items that are damaged during returning cannot be accepted for refund.
If our drivers/couriers have damaged the items when we have been delivering them, we will exchange the items at no additional cost.